News & Reviews
UPCOMING PERFORMANCES:
Visit the SHOWS page for more details.
(No upcoming shows, check back soon...)
PURCHASE CD OR DOWNLOADS:
Visit the MUSIC page.
Thank you for your support of independent music!
NEWS:
December 2021
A couple of videos up now on my YouTube channel from the Rogue Folk Club show in September, with Eric Reed on guitar, where we opened for Viper Central.  Fun!  Thanks to all who came out to enjoy some live music, and also to those who watched the livestream.
YouTube.com/MegTennantMusic
July 2021 
Lingo Sisters Memories Page
I spent a lot of time in the '90s singing with my friend Janet Lillian Russell in the Lingo Sisters duo and band.  Janet and I have gathered together some music (from digitized cassette tapes), some photos, promo posters and an interview.  Check it out on a new page here on my website. 
July 2021
Meg stuff on YouTube
Still posting random new and old songs I've written, and some cover tunes on my YouTube channel, it's been fun for me during the pandemic while live shows have been on hold. Enjoy! www.YouTube.com/MegTennantMusic
June 2021  
Open Tuning Online Festival 2021
I was happy to be included in this Seaton Village neighbourhood street festival (Toronto) from way over here on the west coast.  My set can be viewed on my YouTube channel here. 
May 2021 
Another '80s A Cappella lyric video
My younger self reminds me to be grateful and fearless!  I just created a lyric video to go with this '80's recording of my song "The Heart of Soul", sung by me, Rajka Jahura and Chloe Scarf for our trio, Stolen Moments.  Here's the link.  Enjoy! (And if you feel inclined, please subscribe to my YouTube channel.)
April 2021 
'80s A Cappella Recording
One of those pandemic projects...unearthing old recordings.  I found one I wrote called "Moon is Like a Boat", recorded on a portastudio in the 80's with me singing all three parts, and I've just created a lyric video for it.  Here's the link.  Enjoy!
March 2021 
Interview on Sev's Cellar
I was interviewed for Sev's Cellar on TheBorderline.ca, a great radio station in my home town, Sault Ste. Marie, Ontario, it aired on Thursday, March 25th, but you can still listen to the full interview here on the Sev's Cellar podcast.    
January 1, 2021 
"New Year Song"
Seemed like a good day to unearth a song from my very first recording session back when I was 17 or 18 in Northern Ontario.  I created a little lyric video to go along with the old recording.  Here's a link to the video on my youtube channel.  Hope you enjoy it. 
September 2020  
Changes...
I've just moved back to Vancouver from Toronto to be closer to my daughters--nothing like a pandemic to get you to make sudden, sweeping life changes!  I'll miss the Toronto music community, but hope to stay connected from a distance.  Here's a link to the most recent video I did with my Echoed Light co-producer Mark Ripp, from our respective homes - a cover of the classic song "Hickory Wind".  Hope to do more of these...Enjoy!  
May 2020 
Meg's Living Room Song Series - YouTube
I've been posting songs each week, on YouTube, from my living room just to stay connected with you while we all continue to row our own little boats through the wild seas of this crazy year.  Click here to watch these videos, and please subscribe to my YouTube channel if you feel inclined.  Thank you for your support of independent music.  Stay safe and love-filled, everyone!!
February 2020 
The Alex Huard Project, Balcony Sessions
Thanks to Alex Huard for producing videos for two of my songs: "Glass Heart"  and "Still We Shine".  Both videos were shot on Alex's balcony on a rainy day last fall with the Toronto skyline as a backdrop.   View these two videos in the Balcony Sessions series on YouTube here.
January 2020 
"Echoed Light" CD makes Roots Music Canada's List of 11 Favourite Discoveries from 2019.
I'm very grateful to Roots Music Canada for including "Echoed Light" in their list of 11 favourite discoveries from 2019.  Here is a link to the list.
December 16 2019 
Linda McRae's new video
I was one of the lucky people who got to lip synch a line in Linda McRae's new video "Caney Fork River" from her new CD Going to the Well.  A fine tribute to Willie P. Bennett, who wrote the song.  Watch the video here.
December 2019 
"Echoed Light" CD makes Paul Corby's List
Thanks to Paul Corby, for including "Echoed Light" as one of his top 50 favourite new records of 2019!!  (djpaulcorby.blogspot.com)

May 2019 
Thanks for attending my CD Release Concert
Many thanks to everyone who came out to the "Echoed Light" CD Release Concert at Burdock Music Hall on May 17th.  We had a full house, and tons of fun.  My deepest gratitude to the super-talented band:  Bob Cohen on guitars, Mark Ripp (a.k.a. MIVOTSN) on guitars, Ivan Rosenberg on dobro, Jeff Dunk on bass, Michael Young on harmonica, and vocalists Clela Errington, Jocelyn Barth, Emily Tennant, Sadie Tennant.  And we were joined by a great choir of friends and relatives for a song:  Anne Davey, Glen Hornblast, Johann Lowenberg, Darlene Montgomery, Michaela Murphy, Judy Persad, Beth Rossen.  A fine bunch of souls.  My heart is full.  
(Check the photos page to see photos by attendees).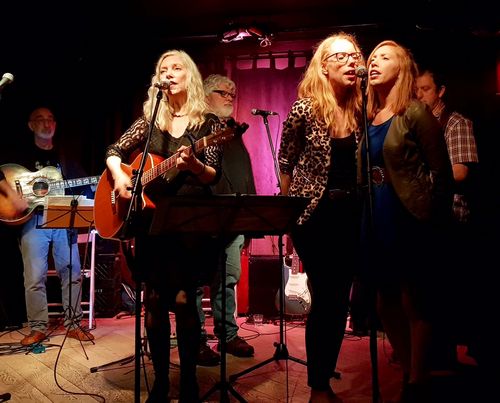 Reviews: 
ECHOED LIGHT was included in
Roots Music Canada's list of
11 Favourite Discoveries from 2019. 
-
ECHOED LIGHT was included in
Paul Corby's Top 50
Favourite New Records of 2019.
"...Meg's thorough lyrical groundwork is evident in the elegance and pragmatism of the message she illuminates with each song..." (Read full review here) 
     —Paul Corby, for Roots Music Canada (May 2019) 
"...this sweet-voiced artistically mature singer-songwriter might come as a revelation to many...there are some beautiful songs here..." (Read full review here) 
     —Roots Music Canada (April 2019) 
"...music with heart and songs from the place we all aspire to connect with..." (Read full review here) 
     —Don Graham, Record World USA and Cash Box Canada (March 2019)
"Congrats on a very fine album.  I shall give it lots of airplay."
     -Dick Altavista, Radio DJ, CKCU Ottawa
Comments from Listeners:
"Meg you are such a brilliant storyteller thru your songs.  While I love your first CD, this one speaks to my heart...It feels like you wrote my life.  I haven't been moved by an entire CD like this ever before."
     -Brenda Gravelle, Actor/Singer
"Really well written songs and the production is perfect. Congrats on such a wonderful collection of works." 
     -James Clark, Songwriter/Recording Artist
"Great album, Meg!  Wow, very beautiful.  Just got your CD in the mail today.  Really love Glass Heart.  Very powerful love song....Hooked Me Like a Habit, Day of Grace, Silence & Snowbanks and Let's Walk this Road are really great.  Shine a Light On Us is a really beautiful tribute to your brother.  What a lovely mourning song.  When are you going to visit Nashville with it all?"
     -Michael P. O'Hara, Waking Dream Productions
"I love your new cd. The lyrics, the arrangements, the great playing of all the musicians, the variety of tunes, your voice--always so true--it's just wonderful."
     -Mary Lynn Murphy, Novelist/Poet
"...your straight-ahead style and how you use rhythms to provide unexpected tension/release moments.  It's intriguing and very subtle. Your songs are singable and poetic, and I can easily see why so many musicians want to perform with you, and collaborate on your songs. Echoed Light is a good body of work which harmonizes together like a painting or scenes in a play."
     -Becca Anderson, Songwriter/Recording Artist
"In today's mail, Meg Tennant's new CD Echoed Light. I am lucky to know a whole bunch of talented musicians. Meg is among the best. Great lyrics, beautiful voice, an amazing team of musicians and singers, and damn fine arrangements. What more could you want in a CD?"
     -Neil Muscott, Photographer/Writer