News & Reviews
UPCOMING PERFORMANCES:
Visit the SHOWS page.
PURCHASE CD OR DOWNLOADS:
Visit the MUSIC page.
Thank you for your support of independent music!
NEWS:
September 24, 2022
It's always fun to have a song included in a radio show, this time out of New York.  My song "Echoed Light" will be included in this Sunday's radio show, the Hootenanny Cafe Singer Songwriter Showcase.  Songs were chosen around the theme "new beginnings". (Now there's a theme we can all relate to!)  Airing on WTBQ.com on Sunday Sept. 25 at 9 pm EST / 6 pm PST.
This same show will also air the following Thursday and Friday at 10pm EST (7pm PST) on bellbuckleradio.com.
After that, you should be able to listen to the show anytime on hootenannycafe.com
August 17, 2022
I've just added a virtual tip jar on my "shows" page for anyone who feels inclined to help in this way to keep the songs flowing.  (Certainly not expected, but much appreciated.)  My intention is to do the occasional home-video or livestream, leading up to some crowd-funding and pre-sales for a future album.  Stay tuned!
June 7, 2022
Grateful that my lyric video for "Silence & Snowbanks" is being featured today on the Women of Substance video blog.  I wrote this song with my good friend Michael Young, and the photos in the video were taken by my cousin, Michaela Murphy.  
May 9, 2022
My song "Echoed Light" kicks off the latest Women of Substance podcast (#1365).  Thanks, Bree Noble!
May 8, 2022
New!!  Lyric video for "Echoed Light" on my YouTube channel.  I love creating these lyric videos!  Hope you enjoy it.
May 3, 2022
Happy to be included in the Women of Substance Celebrating Motherhood series of podcasts.  My song "Mama Sang 'The Wren'" is in show #1362.  
April 25, 2022
Grateful my song "Echoed Light" was added to the Indie/Folk/Pop Compilation playlist on Spotify.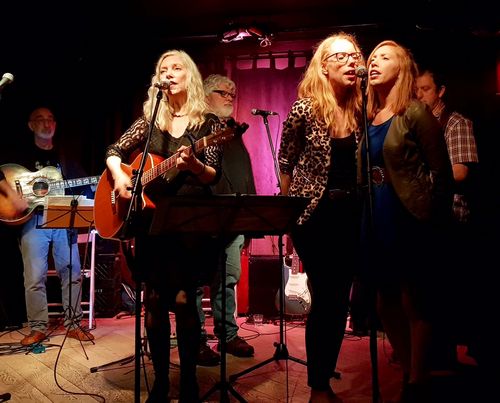 Reviews: 
*****
ECHOED LIGHT was included in
Roots Music Canada's list of
11 Favourite Discoveries from 2019. 
*****
ECHOED LIGHT was included in
Paul Corby's Top 50
Favourite New Records of 2019.
*****
"...Meg's thorough lyrical groundwork is evident in the elegance and pragmatism of the message she illuminates with each song..." (Read full review here) 
     —Paul Corby, for Roots Music Canada (May 2019) 
"...this sweet-voiced artistically mature singer-songwriter might come as a revelation to many...there are some beautiful songs here..." (Read full review here) 
     —Roots Music Canada (April 2019) 
"...music with heart and songs from the place we all aspire to connect with..." (Read full review here) 
     —Don Graham, Record World USA and Cash Box Canada (March 2019)
"Congrats on a very fine album.  I shall give it lots of airplay."
     - Dick Altavista, Radio DJ, CKCU Ottawa
Comments from Listeners:
"Meg you are such a brilliant storyteller thru your songs.  While I love your first CD, this one speaks to my heart...It feels like you wrote my life.  I haven't been moved by an entire CD like this ever before."
     -Brenda Gravelle, Actor/Singer
"Really well written songs and the production is perfect. Congrats on such a wonderful collection of works." 
     -James Clark, Songwriter/Recording Artist
"Great album, Meg!  Wow, very beautiful.  Just got your CD in the mail today.  Really love Glass Heart.  Very powerful love song....Hooked Me Like a Habit, Day of Grace, Silence & Snowbanks and Let's Walk this Road are really great.  Shine a Light On Us is a really beautiful tribute to your brother.  What a lovely mourning song.  When are you going to visit Nashville with it all?"
     -Michael P. O'Hara, Waking Dream Productions
"I love your new cd. The lyrics, the arrangements, the great playing of all the musicians, the variety of tunes, your voice--always so true--it's just wonderful."
     -Mary Lynn Murphy, Novelist/Poet
"Sings like an angel, writes from an intelligent heart."
     -Wanda Mae Anderson
"...your straight-ahead style and how you use rhythms to provide unexpected tension/release moments.  It's intriguing and very subtle. Your songs are singable and poetic, and I can easily see why so many musicians want to perform with you, and collaborate on your songs. Echoed Light is a good body of work which harmonizes together like a painting or scenes in a play."
     -Becca Anderson, Songwriter/Recording Artist
"In today's mail, Meg Tennant's new CD Echoed Light. I am lucky to know a whole bunch of talented musicians. Meg is among the best. Great lyrics, beautiful voice, an amazing team of musicians and singers, and damn fine arrangements. What more could you want in a CD?"
     -Neil Muscott, Photographer/Writer