BIO
Meg Tennant's love of song was awakened early. Her childhood home in Sault Ste. Marie, Ontario, was filled with music, and after the obligatory piano-lesson foundation, she acquired her first guitar at age sixteen. The song-writing began in earnest then, and within two years she was frequenting the open mic stages in Toronto, while living in a home-made houseboat on the Island. 
A subsequent move to B.C. opened a new chapter in her life, which included raising two daughters.  She continued to perform part-time at festivals and showcases and provided backing vocals for other singers' projects. She played in the duo Lingo Sisters, opened at the Rogue Folk Club in Vancouver for well-known songwriters like Eliza Gilkyson and Tom Russell, and eventually toured BC in the band, AUGUST.  In 2001 she released "Driving With You", her first album of originals and in 2007, followed up with the collaborative collection, "The Sweetest Day", with AUGUST. 
Returning to Toronto in 2010, Meg's sweet vocals and soulful lyrics continued to charm audiences at venues like Acoustic Harvest, Winterfolk, Musideum, and the Nashville Bound songwriter showcase. Her long-awaited second solo CD, "Echoed Light", which Meg co-produced with Toronto roots rock songwriter Mark Ripp, was released in the Spring of 2019.  "Echoed Light" was included in Roots Music Canada's list of eleven favourite new discoveries of 2019.
After 10 years in Toronto, Meg has moved back across the country to the west coast and is currently writing songs for her next album.
 
Reviews of the CD "ECHOED LIGHT" (2019)
"...Consensus is building here at Roots Music Canada:  Echoed Light is a lovely little album that sneaks up on you."
—Roots Music Canada (Facebook page)
"...The songs, most of them recent, pulse with the ideology of perseverance that Meg brings to all of her stories..."
—Paul Corby, Roots Music Canada   (Full review here)
"...this sweet-voiced artistically mature singer-songwriter might come as a revelation to many...Meg's voice manages to sound both girlish and world-weary at the same time.  And there are some beautiful songs here..."   
—Roots Music Canada    (Full review here)
"...smooth articulate writing style...I now have this CD "Echoed Light" on repeat, it's that good..."  
—Cash Box (Canada) & Record World (USA)    (Full review here)
 ***
Reviews of the CD "DRIVING WITH YOU"  (2001)
"Her crystal clear and inviting voice shines on this collection of ten original songs"
—Penguin Eggs, Canada's Folk, Roots & World Music Magazine
"Thoughtful and articulate." 
—Songwriter Universe
"In 10 tracks, Meg Tennant invites us into her life, and anyone refusing the invitation will be the poorer for it...I wonder if I am seeing deeply into another person's heart or if it is just the art of good writing."
-Rambles.net    (Full review here)
"Meg Tennant's 'Driving With You' is rich and dreamy, an auspicious musical maiden voyage that you won't want to miss."
—Don Strong, The Edge, Best of 2002 Sound & Spirit CD Reviews
" Tennant has a lovely contemporary folk sound in her singing and her writing. She's got more going for her though than your average female singer/songwriter. She has a gift for the unexpected yet still simply beautiful melody. There is also a straightforward simplicity to her lyrics but also a sharp flip side that is just as sincere and as potent."
-The Muse's Muse    (Full review here)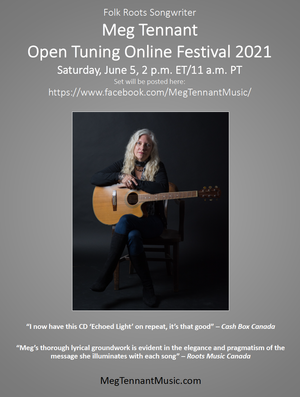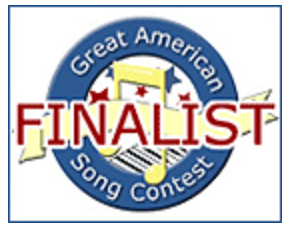 SONGWRITING HIGHLIGHTS 
"Echoed Light" - 2022 Indie International Songwriting Contest - 11th place in the folk/roots category. 
"Bucket of Love" - currently being performed by choirs in BC, Australia and Sweden.   
"Buddy's Back" - recorded in 2000 by bluegrass artist Tammy Fassaert, produced by John Reischman 
"You're Coming Home With Me" - recorded by California singer-songwriter Trish Lester (2017). (Co-written with Trish Lester & Eric Murakami) 
"Under the Sun" - recorded by roots and ragtime band My Sweet Patootie (2013).  (Co-written with Michael Rogers)  
"Mama Sang 'The Wren'" - 7th place in 2010 Indie International Songwriting Contest.   
"Arizona" - on compilation album Grrrls With Guitars, Vol.2   
"It Made Her Cry" - on compilation album Helping Hands, West Coast Artists for UNICEF      
"Driving With You" - best song of the month in 2004 on Songwriter Universe.   
"Maker of Marimbas" - honorary award in 6th annual Great American Song Contest (2005).